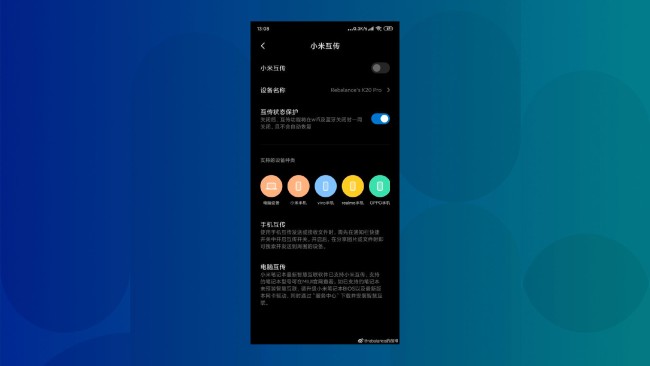 The peer-to-peer file transfer option in a Xiaomi phone shows support for handsets from other brands including Vivo, Realme and Oppo. (Picture: rebalance的微博 via Weibo)
Last year, three of China's largest smartphone brands said they were launching a wireless peer-to-peer file transfer protocol that would work across their devices, sort of like an Android version of Apple's AirDrop. Now four more brands are joining the alliance started by Xiaomi, Vivo and Oppo.
The new members include OnePlus and Realme, sister brands of Vivo and Oppo under BBK Electronics, along with Xiaomi-backed gaming phone brand Black Shark and long-time smartphone maker Meizu. The new arrangement means users of any of these seven brands can transfer images, video and other files directly between phones using Bluetooth for fast pairing and Wi-Fi for data transmission. There's no need for a mobile data connection or any third-party app.
Xiaomi, Vivo and Oppo are currently the world's best-selling Chinese smartphone brands after Huawei, which is notably absent from the alliance. Brands in the alliance reach nearly 400 million users, according to Thursday's announcement.
For Android owners who don't use any of these brands, Google is polishing a similar function called Nearby Sharing or Fast Share. It's expected to arrive with the upcoming Android 11 later this year.