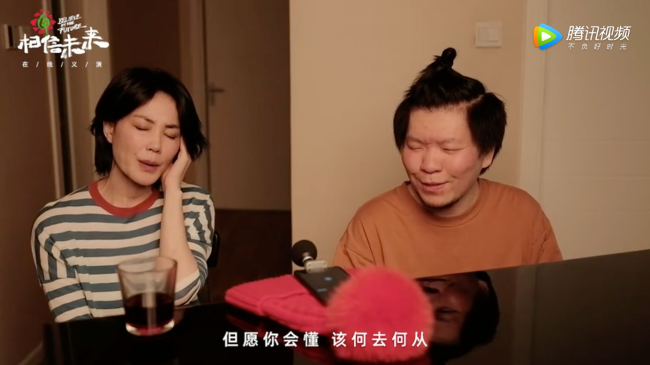 Faye Wong and Chang Shilei were the first to perform in China's "Believe In the Future" concert. (Picture: Tencent Video)
One World: Together At Home wasn't live streamed in China, so China made its own Covid-19 charity concert called Believe In the Future. Similar to One World, Believe in the Future streamed pre-recorded performances from famous Chinese musicians in two shows each lasting two hours on May 4 and 5. The shows also had three hosts who spoke between performances.
Believe In the Future was put together by Chinese musician and talk show host Gao Xiaosong together with online platforms that include Tencent Music, NetEase Cloud Music, Weibo and the Alibaba-owned online ticketing platform Damai. Artists taking part paid tribute to medical workers and encouraged people to resume their work and lives as the worst of the Covid-19 pandemic subsides in China. While the event is referred to as a "benefit" or "charity" concert, it didn't actually raise money for relief efforts.
(Abacus is a unit of the South China Morning Post, which is owned by Alibaba.)
Believe In the Future comes two weeks after official streams of the international One World concert failed to materialize on Chinese platforms, which only offered on "coming soon" notices. But many people in China found other ways to tune in. Streaming platforms promised to release recordings of the concert, but only Bilibili has released the main two-hour show with Chinese subtitles. The six-hour pre-show remains unavailable. Only clips of the concert can be found on Tencent Video and Alibaba's Youku, which were supposed to be One World's streaming partners in China.